The 78th Aradhana celebrations of Sri Subramania Sastrigal [Yatheendraal] is to be celebrated on Wednesday the 16th of November, 2011, at His Adishtanam in Siddhamalli.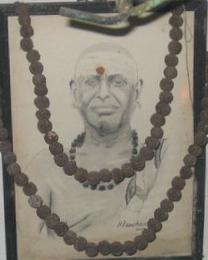 Siddhamalli Periyavaa
On the occasion of the 78th Aradhana of Sri Yatheendraal, Special Programme are to be conducted on 15th and 16th November, 2011. All are requested to participate in this Celebrations and make it a grand success.

On the eve of 78th Maha Guru Pooja of Poojyasri Sri Siddhamalli Periavaa which is to be conducted on 16th November 2011, it has been proposed to conduct a religious discourse on DIVYA CHARITHRAM OF SRI ABHIRAMA BHATTAR on 15th November 2011 at 6 PM at the premises of Athishtanam, in Siddhamalli.
" SRI ABHIRAMA BHATTAR DIVYA CHARITHRAM " - Discourse to be delivered by the Great Gandson of Yatheendraal - Shri Raman of Pondicherry.
It is to be noted that Sri Yatheendral is the 7th Guruparambara of Sri Abiramabhattar who lived in Tirukadaiyur and composed "ABHIRAMI ANTHATHI". The Maha Guruparambara list will be released during this lecture.
All the Devotees are requested to attend the said Aradhana and get the Holy Blessings of Siddhamalli Swamigal.

To learn more about the Great Mahaan, you may click on the link below:


https://yatheendral.tripod.com/
http://srikulasekhara.blogspot.com/
ALL ARE INVITED TO SIDDHAMALLI TO WORSHIP SAMADEESWARAR AND GET HIS HOLY BLESSINGS !
For further details on the above, you may get intouch with Shri Raman - Mobile No: 9443309858.
Let the Samadeeshwarar's Blessing Grace all of us!