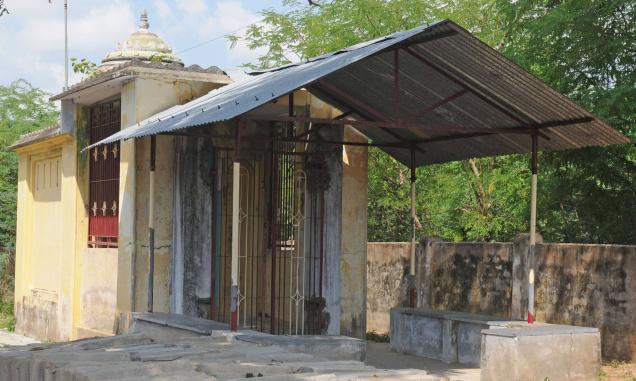 Adishtanam of Siddhamalli Periyavaa
RENOVATION OF THE ADISHTANAM
The Village, Siddhamalli, in Tiruvarur district, is famous for two reasons-one being the ancient Kulasekhara Swamy Temple and the other being the Adishtanam of the Great Mahaan called Sri Subramania Sastrigal[Yatheendraal] aslo known as the "Samadeeshwarar".
On the Mannargudi-Muthupet route[Thiruvarur district], is Siddhamalli village, where the Great Saint and Sanscrit Scholar Shri Subramania Sastrigal [Yatheendraal - 1868 -1933] attained Jeevan Mukti-Apathsanyasa Yoga, with the Anugraham of HH Shri Maha Periyavaa of Kanchi Kamakoti Mutt.
Adjacent to this Adishtanam, is the Shiva Temple dedicated to Sri Kulasekhara Swami with consort Abhirami. This temple, built by the Cholas, is now in a dilapidated condition and is under renovation. Legend says that this was built by Kulasekhara Pandian in the 11th century and is also attributed to Rajaraja-III - you will find Siddhamalli mentioned in an inscription.

This small village called Siddhamalli, is said to have got its name by the presence of Siddhars who once upon a time lived there. Another relates to the Mahabharata. The Pandavas during their exile, is said to have arrived here, dis-spirited and confused. They regained their Peace and Clarity after offering their prayers at this Kulasekhara Swamy Temple.
This small village, that once vibrated to the chanting of Vedas and Mantras, now bears a desolate look - more or less a "God-foresaken land".
Sri Subramania Sastrigal [Yateendraal] was a renowned Sanscrit Scholar. A disciple of Mahamahopadyaya Shri Raju Sastrgal of Mannargudii, Sri Yateendraal was one of the several pandits who trained Sri Chandrasekharendra Saraswati in Vedas, Upanishads and vyakarnam when he took over as the 68th pontiff of Sri Kanchi Kamakoti Peetam.

Being an ardent devotee of Paramacharya, Sri Yateendraal administered the activities of Kanchi Mutt with his own financial resources when HH Maha Periyavaa was young. A trusted lieutenant of the sage, the latter commended him for his deep knowledge. Maha Periyavaa called him "Eka Sandgrahi" (after a single reading or hearing he could recall verbatim the contents) referring to his exceptional memory. He was awarded the title "LIBRARY" by HH Paramacharya.

Bestowing Apathsanyasam, on Sri Yatheendraal's request, on November 9, 1933, Sri Subramania Sastrigal Yatheendraal attained Jeevan Mukti. His body was buried on the western side of Sri Kulasekara Swami temple and the Adishtanam became a place of worship.
This Adishtanam is said to be so powerful that, if one offers their prayers at this Adishtanam, it is answered and fulfilled. Such is the Greatness of this Mahaan.
Aradhana for this Great Saint is celebrated every year, at His Adishtanam in Siddhamalli ,by His descendants during the month of November.

The Adishtanam is now in a very dilapidated condition and is in want of renovation. As a befiting gesture to this Great Mahaan, it is proposed to buld a compound wall and give a new face-lift to the Adhistanam on the whole, and also to provide other facilities for the people who wish to visit the Adishtanam, for which there is lack of funds.
For more information on how to Contribute, you may visit the APPEAL PAGE on this website and do the needful.
I am confident that this Appeal will reach out to all the people, far and near. Your Contributions can make a lot of difference.

Please donate liberally for this noble cause.

HAVE DARSHAN OF 'SAMADEESHWARAR' AND GET HIS HOLY BLESSING!